MORE TO FOLLOW - SOON
Field Day 2014-June 28-29 At the Lighthouse.
Our best FD yet; Analysis of the December issue of QST indicates the following.

The Port Lavaca Amateur Radio Club placed 2nd in South Texas for Class 2A. 701 contacts with 150 watts or less, totalling 3,012 points with 9 personnel.

In South Texas, we were once again bested by Williamson County ARC, N5TT (+N5TW). They made 2133 contacts with less than 150 watts for a total of 8,050 points. They claim to have fielded 60 personnel.

Nationally, Class 2A was topped by W1NVT, Radio Amateurs of Northern Vermont. They made 4548 QSO's with 27 personnel and scored 14,018 points. I'll bet that they can actually see 5000 other stations from their location.

Interestingly, Class 1A was led nationally by a South Texas entry, K5WA, Tilson CC (who are those guys?), with 2440 QSO's from 8 personnel, totalling 9,102 points (that's an average of more than 100 Q's/hour, for 24 hours - chew on that for a minute). Nice job. It can be done from STX.

Photos and the full story coming soon.

Field Day 2013-June 22-23 At the Lighthouse Again.
Our best FD yet; the claimed score would place PLARC roughly in the middle of all 2A entries last year. The QSO total is a BIG improvement over 139 last year and 127 in 2011. Big Successes: Bandpass Filters; FD networked software; 80/40 dipoles; Jerry's "chat" with the Constable at the party; and our newest member, Mike, W9CO.

Total Contacts = 485
Total QSO Points = 833
Claimed Bonus Points = 900 Total Claimed Score = 2566

Photos and the full story coming soon.

Field Day 2012
Photos and the "story" of the event will appear soon. The "webguy" has gotten behind in his work.
Field Day 2011
(LaDonna Thigpen Photo)
The antenna farm (LaDonna Thigpen Photo)
Tommy, AB5AS, and his VHF e-mailer. (LaDonna Thigpen Photo)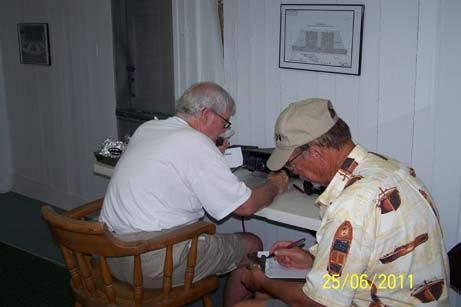 Ed, K5SBR, on 15 SSB, with Jerry, KF5DDV logging. (LaDonna Thigpen Photo)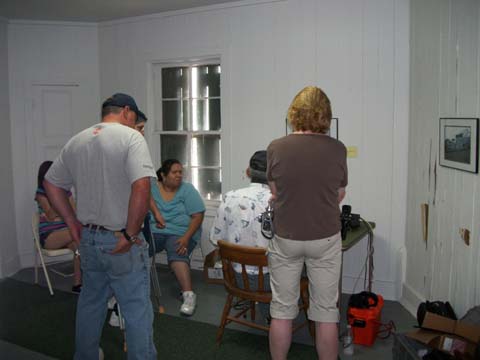 Mario, WO5O, seated, running 20 meter PSK-31 with onlookers. From the right, LaDonna Thigpen, Calhoun County Emergency Management Coordinator, Boyd Staloch, Port Lavaca Fire Dept., with Noel, KD5PMU, XYL and daughter just visible behind Boyd. (K5SBR photo)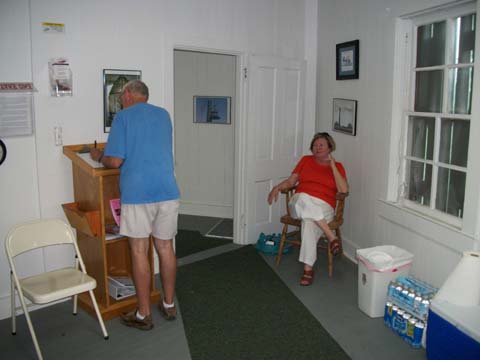 Port Lavaca City Councilman Jimmy Ward signing the guest registry under the watchful eye of Jan Regan, local realtor. (K5SBR photo)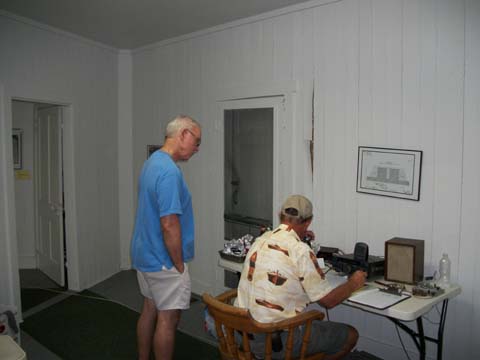 Councilman Ward following Jerry, KF5DDV, as he bags another 15 meter SSB qso. (K5SBR photo)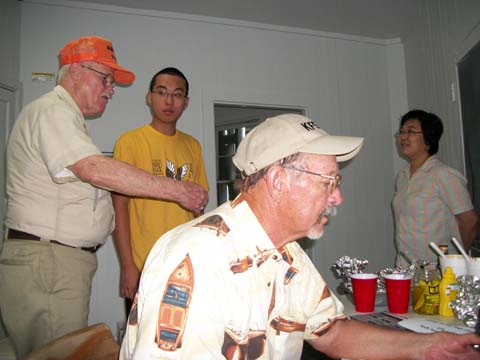 Jerry, KF5DDV, still on 15 SSB with Tommy, AB5AS, explaining the action to a pair of visitors. (K5SBR photo)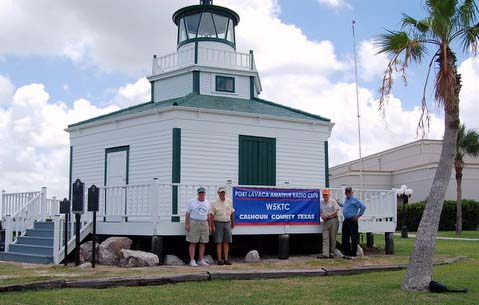 Done. From the right, WO5O, AB5AS, KF5DDV and K5SBR. (WO5O photo)
The following hams were on site at some point during the exercise:
Tommy, AB5AS
Mario, WO5O
Jerry, KA5LVH
Noel, KD5PMU
John, KE5HAM
Jan, K5IDK
Jerry, KF5DDV
Ed, K5SBR
We also hosted four governmental and NGO officials, along with at least 15 "civilians".
The historic Halfmoon Reef Lighthouse provided the perfect venue. Many thanks to the Calhoun County Historical Commission and Calhoun County Museum Director George Ann Cormier for their support. We look forward to future amateur radio activities from this location.

~~~~~~~Top~~~~~~~
Preliminary 2011 Results
Based on a preliminary QSO count and bonus point assessment, it appears that our claimed score is 1234. Looking at 2010 reported national results, that would put us at about 400 out of 502 entries in Class 2A. This results for this year will appear in the December issue of QST.

In only 10 hours of operating time out of a possible 24, we made 127 QSO's; 48.8% were SSB, 5.5% digital and 45.7% CW.

Many thanks to all who participated. Those who got pulled another way missed some fun. The only sweaty time was setting up and messing with the antennas (sorry, no bonus points for putting them up twice!). I've never done Field Day in air conditioned comfort before...I'm ruined...for all time!

73,
Ed Campbell
K5SBR
2011 Field Day Event Coordinator
P.S. Lessons Learned:
The batteries worked great, as long as transmitter power is 150 watts or less! No generator noise and no refueling.
Need bigger, longer coax to put two antennas further apart. May need custom bandpass filters to keep radios from deteriorating adjacent band performance. Split polarization is good, but not enough with the new-design radios.
Especially on SSB, in lieu of raw power, need bigger antennas. An idea for next year...a tri-band yagi on the roof of the Bauer Center!
On site BBQ and chef to keep Mario on the radio and off the roads (although he did save lives!).
With the air-conditioned, bug-free environment of the Lighthouse, we could put in more hours of operating. Practice makes perfect, someone once said.

~~~~~~~Top~~~~~~~
An Analysis of Published Results for Field Day 2011
The following information was drawn from December, 2011 QST magazine. Based upon submitted results, there were 39,246 Field Day participants in all 80 ARRL sections in the U.S. and Canada, a 4% increase from 2010 and a new record. The number of contacts made jumped almost 8% from the prior year to more than 1.4 million. While the growth compared with 2010 (up 6.7%) was slowest of the three modes, CW is far from dying, recording a contact rate of more than 350 per minute for the event's duration.
Of the record 2666 entries, 61% set up in the field as Class A or B entries (true field day operations). Nationally, the largest number of entries, 387, chose the same Class 2A (operating two transmitters at the same time) that the PLARC did, where we ranked 307th.

The South Texas Section posted the eighth largest total participation with 69 entries; Ohio had 134 and Canada's Northwest Territories managed one. Of the 39 out in the field, PLARC scored 15th. Of the nine Class 2A South Texas entries, PLARC was seventh.
Our results were accepted as submitted, with our 8 operators making 127 contacts and scoring 1,234 points.
Top scores are always instructive:
Class 2A South Texas Section - Williamson County ARC made 2319 contacts with 43 operators; 8,280 points; also the top South Texas Section score!
Class 2A in U.S. & Canada - Radio Amateurs of Northern Vermont made 5467 contacts with 23 operators; 16,320 points.
U.S. & Canada - Potomac Valley RC made 12,158 contacts with 90 operators running 25 transmitters; 38,764 points. Note that PVRC has been one of the major contesting and radiosport powerhouses since WWII.
Congratulations to all who came to play. Mark your calendars - 2012 Field Day, June 23-24.

~~~~~~~Top~~~~~~~
The Announcement
"Radio Hams" from Port Lavaca join in national deployment
Public Demo of Emergency Communications June 25-26

Port Lavaca "hams" will join with thousands of Amateur Radio operators who will be showing off their emergency capabilities this weekend. Over the past year, the news has been full of reports of ham radio operators providing critical communications during unexpected emergencies in towns across America including the California wildfires, winter storms, tornadoes and other events worldwide.

During Hurricane Katrina, Amateur Radio – often called "Ham Radio" - was often the ONLY way people could communicate, and hundreds of volunteer "hams" traveled south to save lives and property. When trouble is brewing, Amateur Radio's people are often the first to provide rescuers with critical information and communications. On the weekend of June 25-26, the public will have a chance to meet and talk with local ham radio operators and see for themselves what the Amateur Radio Service is about. Showing the newest digital and satellite capabilities, voice communications and even historical Morse code, hams from across the USA will be holding public demonstrations of emergency communications abilities.

This annual event, called "Field Day" is the climax of the week long "Amateur Radio Week" sponsored by the ARRL, the national association for Amateur Radio. Using only emergency power supplies, ham operators will construct emergency stations in parks, shopping malls, schools and backyards around the country. Their slogan, "When All Else Fails, Ham Radio Works" is more than just words to the hams as they prove they can send messages in many forms without the use of phone systems, internet or any other infrastructure that can be compromised in a crisis. More than 35,000 amateur radio operators across the country participated in last year's event. "We hope that people will come and see for themselves, this is not your grandfather's radio anymore," said Allen Pitts, W1AGP, of the ARRL. "The communications that ham radio people can quickly create have saved many lives when other systems failed or were overloaded. And besides that – it's fun!"

In the Port Lavaca area, the Port Lavaca Amateur Radio Club will be demonstrating Amateur Radio at the historic Half Moon Reef Lighthouse adjacent to the Bauer Center on June 25, 1 p.m. - 7 p.m. and the 26th, 8 a.m. - 1 p.m. We invite the public to come and see ham radio's new capabilities and learn how to get their own FCC radio license before the next disaster strikes.

There are over 685,000 Amateur Radio licensees in the US, and more than 2.5 million around the world. Through the ARRL's Amateur Radio Emergency Services program, ham volunteers provide both emergency communications for thousands of state and local emergency response agencies and nonemergency community services too, all for free. To learn more about Amateur Radio, go to www.emergency-radio.org.

The public is most cordially invited to come, meet and talk with the hams. See what modern Amateur Radio can do. They can even help you get on the air!
...Field Day Fun is coming to a Lighthouse Near You...
Join Us!
~~~~~~~Top~~~~~~~